人物篇 ‖ 访深圳市龙华区零废弃促进会会长 许楷楠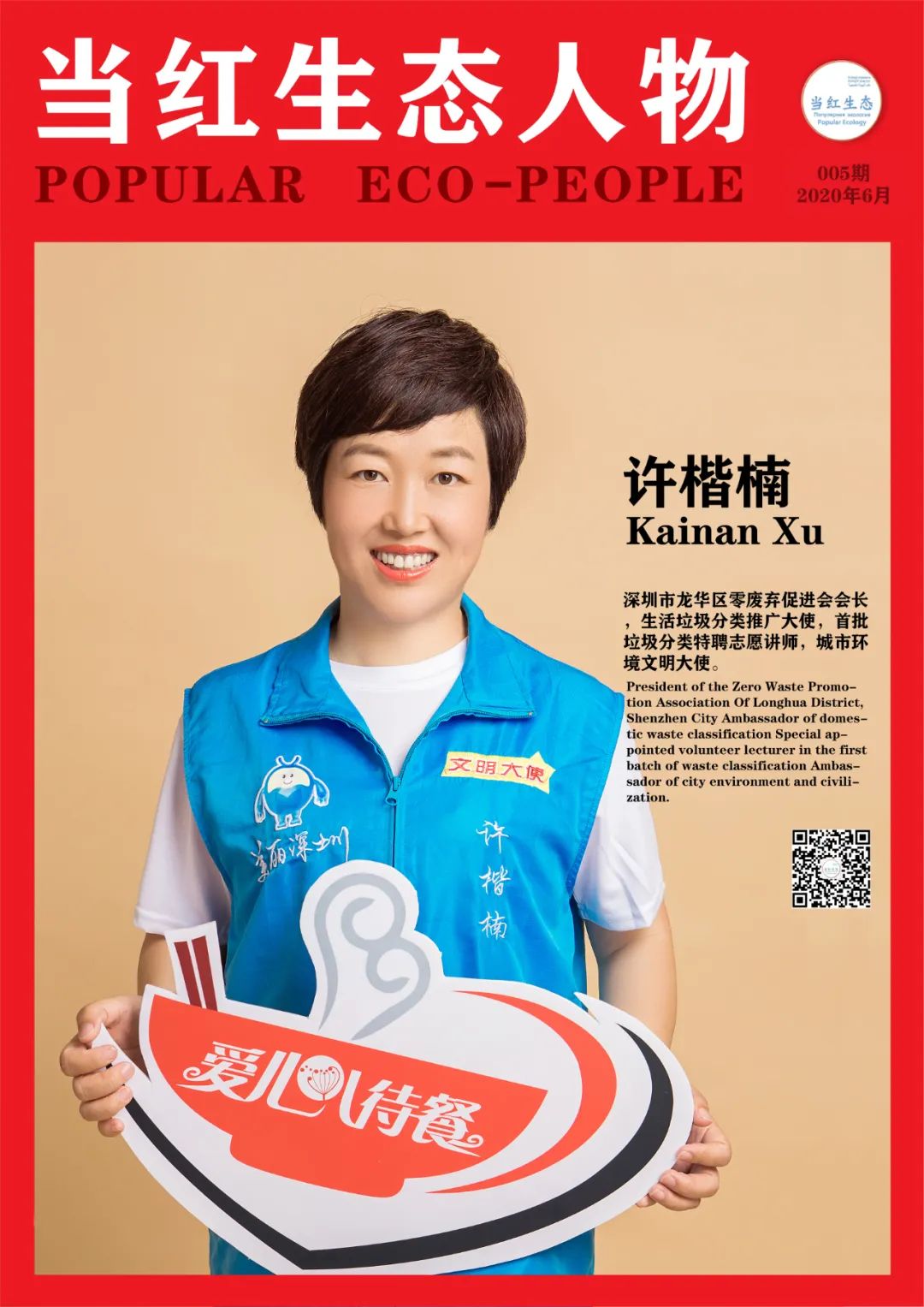 【嘉宾简介】许楷楠,1972年出生于河北省承德市,现任深圳市龙华区零废弃促进会会长。多年来,她致力于推动垃圾减量分类,为避免深圳"垃圾围城"和"垃圾污染"竭力奔走,为生态文明建设和可持续发展摇旗呐喊。
【Guest Profile】Xu Kainan, born in Chengde City, Hebei Province, is currently the president of Zero Waste Promotion Association, Longhua District, Shenzhen city. Over the years, she has been committed to promoting garbage reduction and classification, striving to avoid the "garbage siege" and "garbage pollution" in Shenzhen, and giving support for the construction of ecological civilization and sustainable development.

主持人:大家好,欢迎收看大型网络访谈节目《当红生态人物》,我是主持人郭智孚。今天我们请来的这位嘉宾啊,她在环保领域已经做了整整十八年,可以说她已经是环保的代言人和践行者。话不多说,让我们掌声有请《当红生态人物》第五期嘉宾——许楷楠老师!

Host: Hello, everyone! Welcome to the large-scale online interview program, Popular Eco-People, I'm the host, Guo Zhifu. Today our guest is a spokesperson and practitioner of environmental protection. So far, she has been working in this field for 18 years. Let's give a warm applause to Ms. Xu!
许楷楠:大家好,主持人好!
Xu Kainan: Hello, everyone! Hello, Mr. Guo!
主持人:许老师好,欢迎来到《当红生态人物》作客!2008年以前,您做的大部分是和环保设备、环保系统有关的工作,能和我们聊聊您接触环保的原因以及2008年以前您做的一些环保工作吗?
Host: Hello, Ms. Xu. Welcome to Popular Eco-People. Before 2008, What you have done was related to environmental protection equipment and system. Could you share with us about the reasons why you are involved in environmental protection and briefly introduce any environmental protection work you have done before 2008?
许楷楠:1999 年,我第一次来到深圳。一次偶然的机会,我参加了志愿活动。其实我在大学时就曾做过志愿者,觉得自己付出爱心的同时也收获了不少快乐。也是因为志愿活动,让我开始慢慢了解深圳这座城市,也认识了很多有爱心的朋友。2002 年,我开始接触环保行业,一开始做的是环保设备的研发。
Xu Kainan: I first came to Shenzhen in 1999. I used to be a volunteer in University, which I gained happiness from my efforts. I learned about Shenzhen through those volunteer activities and got to know many kind friends. In 2002, I started to work in the environmental protection industry, starting with the research and development of environmental protection equipment.

主持人:2008年,您的孩子出生以后,您就把主要精力放在家庭中。在这个过程中,您开始从事社区的志愿活动。2012年,您探亲回到深圳后,发现有一股强烈的刺鼻臭味扑面而来......于是,您的新环保事业就在家门口开始了!能和我们具体聊聊您的新环保事业开始的原因吗?之后您又是怎么做的呢?

Host: In 2008, when your child was born, you focused on your family and began to volunteer in the community. In 2012, when you returned to Shenzhen, you found a strong pungent smell come over you...Then, your new environmental protection work started right on your doorstep. Could you talk to us specifically about what got your new environmental business started? What do you do after that?
许楷楠:确实,又回到深圳的那段时间,在小区里日常和其他小孩妈妈们聊天,过程中我发现小区的氛围不和谐,没有业委会,居民对物业很不满意。于是便开始在小区里宣传 " 爱好家园、文明养犬 " 等关爱小区的活动,得到了小区很多业主的支持。
Xu Kainan: Indeed, when I returned to Shenzhen, I was chatting with other mothers in the community. I found that the atmosphere of the community was not harmonious, as there was no property committee, and the residents were dissatisfied with the property. This was how the community began to promote the "Love home, civilized dog" as well as other caring activities, which then received the support of many owners..
与环保行业长年累月打交道培养了我的环保意识,加上多年在小区参与和组织志愿者活动的经历,让我开始思考垃圾的解决之道。2013 年,我参加了以垃圾分类为主题的 " 深圳市民大讲堂 " 活动。通过这次讲座,我第一次全面地了解到城市垃圾问题和垃圾分类的现状。听讲座回来之后,我下定决心要行动起来。
Years of dealing with the environmental protection industry have developed my environmental awareness. In addition to years of experience in participating in and organizing volunteer activities in the community, I have begun to think about the ways to solve waste. In 2013, I participated in the "Shenzhen Citizen Forum" with the theme of waste classification. Through this lecture, I got my first comprehensive understanding of the urban waste and status of waste classification. After returning from the lecture, I made up my mind to take actions.
起初,我组织几位居民带上小朋友,每周在小区人流量最大的商业街进行宣传,举着 " 少用一次性物品 "" 多用环保袋 " 等字样的牌子,同时还对街上的垃圾进行清理。
At the beginning, I weekly organized several residents to bring their kids to the most popular commercial street nearby, holding signs saying "Use less disposable items" and "Use more eco-friendly bags". At the same time, we clean up the trash on the street.
为了进一步寻求解决垃圾问题的更好方法,我建立垃圾减量分类群,在群里对有环保意识和爱心的邻居进行宣传,也邀请认识的垃圾处理行业的企业老板、废品回收人员、政府城管部门负责垃圾问题的工作人员到群里,在线进行垃圾问题的讨论,并带动我所在的小区做旧物漂流、图书漂流、闲置物品义卖等活动。
In order to further seek a better way to solve the waste problem, I established a waste reduction classification group, and promoted environmentally conscious and loving neighbors in the group. I also invited other professionals, including business managers, waste recycling staff, and government urban management personnel, to discuss the waste problem, and drive the community to participate in activities such as "Old items rifting", "Book rifting", and charity sale.
2015 年,在一次垃圾分类减量论坛上,我认识了很多全国的专家,随后,我和专家们一起去了宝安能源生态园。后来还加入了福田区生态文明促进会,负责垃圾分类的工作。
In 2015, I met many experts at a waste classification & reduction forum, followed by a trip to Baoan Waste-to-Energy Facility with them. Later, I joined the Futian District Ecological Civilization Promotion Association and was responsible for the waste sorting work.
回来之后,我又在社区组建了一个置换物品的微信群,大家不仅在群里进行物品置换,还常常交流环保知识,分享节约资源的经验。我还在小区里招募志愿者,开展爱护家园清洁、关爱保洁员、资源回收等一系列与垃圾问题有关的活动,从行动中寻找解决垃圾问题的好办法。
After I came back, I set up a WeChat group to exchange items in the community. Everyone not only exchange items in the group, but also share environmental protection knowledge and resource conservation experience. I also recruited volunteers in the community to carry out a series of activities related to the waste problem, such as homecare cleaning, housekeeper caring and resources recycling, from which to find a good way to solve the waste.
除了社区,学校也是我宣传环保的另一个重点。2015 年,我联系上我女儿上学的行知实验小学,提出希望在校内开展资源回收活动,得到了学校领导的支持。接着,我又在学校校长的支持下设立资源回收日,引导孩子们参与垃圾分类资源回收。如今,行知实验小学二年级以上的学生已经养成良好的垃圾分类的习惯,学生家长也参加到学校的环保志愿者队。有的还利用节假日在所居住的社区开展垃圾减量和分类回收的宣传和回收工作。
In addition to the community, school is also a focus of my advocacy for the environment. In 2015, I contacted XingZhi Experimental Primary School, where my daughter was studying, and proposed to carry out resource recycling activities on campus, which was supported by the school leaders. Then, with the support of the school principal, I set up a recycling day to guide children to participate in sorting waste and recycling resources. Nowadays, students from year two and above in XingZhi Experimental Primary School have developed a good habit of waste sorting, and their parents have also joined the school's environmental protection volunteer team. Some also use holidays to carry out garbage reduction and sorting & recycling publicity in the communities where they live.

主持人:后来,您成立了深圳市龙华区零废弃促进会,贵促进会也是当红生态的合作伙伴之一,您和我们简单的介绍一下贵促进会,好吗?
Host:Later, you set up Zero Waste Promotion Association of LongHua District, ShenZhen City, and your Promotion Association is also one of the partners of Popular Ecology. Could you give us a brief introduction to your Promotion Association?
许楷楠:2017 年 4 月,深圳市龙华区零废弃促进会(以下简称 " 促进会 ")成立,是一个由生态环保和垃圾减量分类等领域的社会组织、企业及个人自愿组成的联合性、地方性、非营利性的社会组织。旨在通过引导公众参与零废弃实践、志愿者人才培养、公益新媒体传播应用及零废弃研究,为废弃物管理和循环经济领域提供公益性服务。促进会召集到30 多个环保人士,大家一起讨论章程,选举会长和理事,我很荣幸地被选举为会长。
Xu KaiNan:In April 2017, Zero Waste Promotion Association of LongHua District, ShenZhen City (hereinafter referred to as "Promotion Association") was established. It is a joint, local, non-profit social organization composed of social organizations, enterprises and individuals in the fields of ecological environmental protection and waste reduction classification on a voluntary basis. The aim is to provide public welfare services for waste management and recycling economy by guiding the public to participate in zero waste practice, volunteer personnel training, public welfare media dissemination and application and zero waste research. The Promotion Committee has gathered more than 30 environmentalists to discuss the constitution and elect the president and members. I am honored to be elected president.
促进会自成立以来,我们在万科公益基金会、阿拉善 SEE 基金会、政府采购等提供的资金支持下,在龙华区 17 个小区固定开展资源回收活动,推动龙华区 4 所学校创建生活垃圾分类示范学校,在垃圾减量分类项目上积累了一定的经验。
Since its establishment, with the financial supported from the Vanke Foundation, Alaska SEE Foundation, and government procurement department, we have carried out regular resource recycling activities in 17 communities in Longhua District. Meanwhile we've promoted four schools in Longhua District to create household waste classification demonstration base, and have gathered some experience in waste reduction classification projects.
主持人:垃圾分类是一种新时尚,在您的带领下,深圳市龙华区零废弃促进会组建了蒲公英讲师志愿者团队,在倡导垃圾分类方面做了大量的工作。那你们倡导垃圾分类时主要是做哪些工作呢?
Host: Garbage classification is a new trend, Zero Waste Promotion Association Of Longhua District,Shenzhen City formed a volunteer team of Dandelion lecturers under your guidance, which have done plenty of work in advocating garbage classification. Then what kind of work did you mainly do when promoting waste sorting?
许楷楠:2018 年 3 月份,深圳市城市管理和综合执法局主导设计了生活垃圾分类公众教育蒲公英计划。蒲公英计划就是要建设市、区、街道、社区公众教育基地,组建并培养垃圾分类宣传人才队伍,统一和规范垃圾分类教育培训课件和宣传资料,搭建一套垃圾分类公众教育体系,实现垃圾分类公众教育规模化、平台化、常规化,让垃圾分类这颗文明的种子像蒲公英一样,不断传播扩散,让人人都成为垃圾分类的倡导者和行动者,把深圳打造成 " 人人知道分类,人人参与分类 " 的先锋城市。
Xu Kainan: In March 2018, the Shenzhen Urban Management and Law Enforcement led the design of the Dandelion Plan for Household Waste Classification Education.
The Dandelion plan is to establish public education bases in cities, districts, streets, and communities, form and train a talent team for waste classification and publicity, unify and standardize the training courses and propaganda materials for garbage classification education, finally build a public education system, so as to realize the large-scale, platform-based and regularization of public education of waste classification, make the civilization seed of waste classification spread like a dandelion, let everyone be an advocate and activist of waste classification, making Shenzhen a pioneer city of "Everyone knows the classification, everyone participates in the classification".
学员经过理论与实践的培训,通过考核后才有资格成为讲师。这些讲师进入社区、学校免费讲授垃圾分类课,培养人们的环保意识。同时,周末组建学生队伍,举办一些环保义工活动,将环保意识落实到行动上。
Trainees are qualified to become lecturers only after they have been trained in theory and practice and passed the examination. For the propose of cultivating environmental awareness, these lecturers go into communities and schools to teach classification classes for free. A team of students will be formed on weekends, and some environmental protection volunteer activities will be held to put environmental awareness into action.
主持人:您不仅自己在做环保,还总是能够影响到身边的人,包括您的女儿。据说,有一次您问她的梦想是什么?她的回答是"希望没有垃圾"!这个回答出乎您的意料,但同时又充满着自豪感。那您认为我们应该从哪些方面着手培养下一代人良好的环保意识呢?
Host: Not only are you doing it on your own, but you are always able to influence those around you, including your daughter. It is said that once you asked her what her dream was? Her answer is "I hope there is no waste"! This answer was beyond your expectation, but full of pride in the meantime. What do you think we should do to foster a good sense of environmental protection for the next generation?
许楷楠:我认为主要是言传身教。在孩子思想尚未成熟前,他们的模仿能力是很强的。所以,如果想要孩子形成良好的环保意识和习惯,关键在于日常生活中,父母首先需要养成良好的环保习惯,真正地践行。从我开始做环保,我的孩子也一直跟着我做环保,参加各类环保活动,我认为她是在这个过程中慢慢形成好习惯的。
Xu Kainan: I think it's mainly about living by example. Children's imitation ability is very strong before their minds are mature. Therefore, the key for children to form good environmental awareness and habits that their parents hope for is in our daily life. First of all, parents need to develop good environmental habits, and truly practice that. Since I started to do environmental protection, my children have been following me to do it, I think she gradually formed good habits in this process of participating in various environmental protection activities.

主持人:《当红生态》一直以来的梦想:将世界各地环保人士的故事或经验分享给更多的人,以促使形成更好的生态文明。您对《当红生态》有什么寄语吗?
Host: What we want is to spread the stories and experience of those environmentalists worldwide, so as to promote a better ecological civilization. Do you have any expectation on us?
许楷楠:《当红生态》汇集了很多优异环保人士的故事,是一个传递正能量的优质平台。希望更多人关注《当红生态》,能够通过这个平台互相了解与学习。祝愿《当红生态》越来越好。
Xu Kainan: Popular Ecology, a high-quality platform passing positive energy, gathers many great experiences of environmentalists. I hope more people pay attention to Popular Ecology, through which people can learn from each other. Best wishes to Popular Ecology.
主持人:除了刚刚我们聊到的之外,许楷楠老师还是深圳市生活垃圾分类推广大使,深圳市首批垃圾分类特聘志愿讲师,深圳市城市环境文明大使,这么多年来,许老师一直用实际行动助力环保。让我们再次用热烈的掌声感谢许老师为环保事业的付出。我是《当红生态人物》主持人郭智孚,今天的节目就到这里,我们下期再见。

Host: What's more, Xu Kainan acts as an ambassador of domestic waste classification in Shenzhen, the special appointed volunteer lecturer in the first batch of waste classification, and an ambassador of environment and civilization in Shenzhen. For several years, Ms. Xu has always prompted environment protection with practical actions. Let's thank Ms. Xu for her great contribution to environment protection with warm applause again. I am the host of Popular Eco-people, Guo Zhifu. That's all for today, see you next time.