主持人:欢迎徐贤老师作客我们《当红生态人物》节目!在刚刚的介绍里,我们看到您做过很多和环保相关的工作,那您最初接触环保是在什么时候呢?当时为什么想要做环保?

徐贤:我是97年来到深圳的,当初印象最深的一句话就是:"来了就是深圳人,来了就做志愿者,"从那时起就与公益结缘,开始关注身边的环境,只要有机会就会主动参与一些公益环保活动,2013年,盐田区启动"说到、做到、文明达人驾到"等一系列活动,通过文明微行动线下平台,我从参与者成为一名环保活动的组织者,从当初的每周一场环保活动到现在的每天四场,疫情期间每天从早到晚更是不间断组织开展疫情防控志愿服务,包括:疫情防控、清洁消杀、环境整治、垃圾分类、巡河护河、复工复产、卡口测温、交通劝导........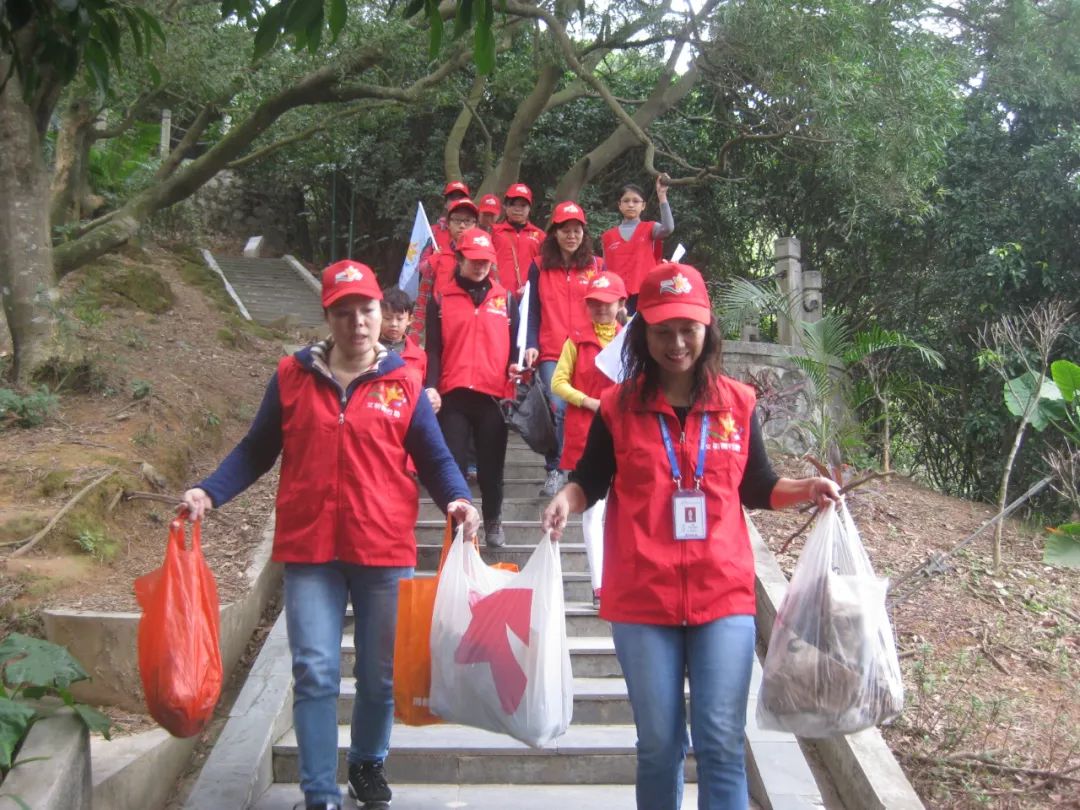 Host: Welcome to our program! We knew you have done a lot of work related to environmental protection. May I ask when did you start getting involved and what initiate you to devote yourself in environmental protection?
Xu Xian: I came to Shenzhen since 1997. I was very impressed by the slogan, "Come to Shenzhen, and you will be part of it; come to Shenzhen, and let's do volunteer together". Since then, I've been actively participating in volunteer work as long as there were opportunities. I used to be a team member, but in 2013, I was able to take the role as organizer for an offline campaign launched by Yantian district, called "Words into Actions, and I'm an Environmentalist". This campaign aimed to encourage everyone to make small contributions in environmental protection. In the past, I volunteered once a week. But now, I volunteered four times a day. During the COVID-19 pandemic, we worked the whole day to help with pandemic prevention and control, including prevention measures, sterilizing, environmental protecting, garbage sorting, temperature testing, traffic dispersing, etc.…
主持人:您是深圳"首位文明大使",分享一下您是如何加入文明使者成长计划,参与之后有什么样的收获呢?

徐贤:2016年元旦,一次偶然的机会加入美丽深圳文明使者成长计划,短短一周就发动两百多人加入,成为深圳市"首位文明大使",也有了更多的机会走出盐田到深圳各区参与更多大型的环保活动,认识了更多热心的环保志愿者,大家互相学习不断成长,截至2020年8月15日,已累计发动了2808名文明志愿者,在平台上发起了463场环保活动,2016年度以平台综合成绩600分大满贯的好成绩包揽了深圳市"优秀城市环境文明大使""最佳人气文明大使""突出贡献文明大使"三大奖项,2017年、2018年、2019年又接连三年荣获"深圳市最具影响力文明大使"奖项,在美丽深圳公益平台积分已超过62万,排名全市第一。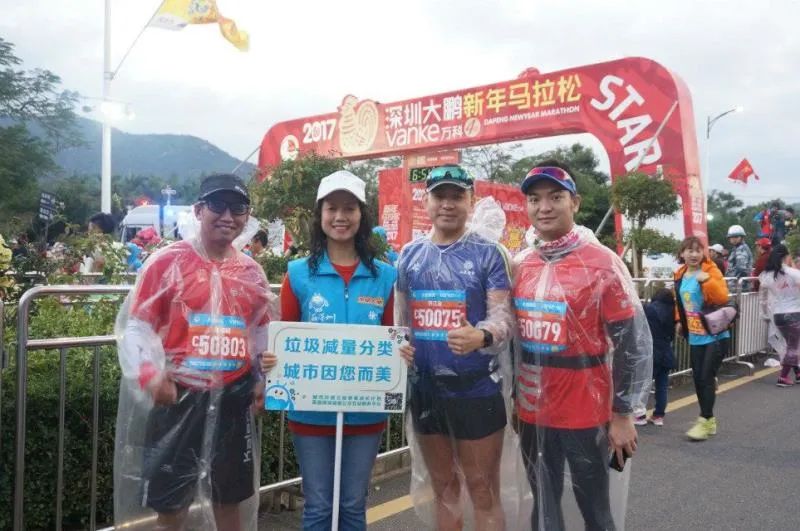 Host: You are the first one in Shenzhen who has been called as the "Ambassador of Environmental Protection." Can you tell us how did you join the "Growth Project for Messenger of Environmental Protection", and what did you learn from it?
Xu Xian: On the New Year's Day of 2016, by chance, I joined the beautiful Shenzhen Civilization Messenger Growth Plan. Within just a week, I inspired more than 200 people to join in and become the "Ambassador of Environmental Protection" in Shenzhen. I also had more opportunities to participate in more large-scale environmental protection activities out of Yantian to various districts of Shenzhen. I got to know more enthusiastic environmental protection volunteers. We all learned from each other and grew up. As of August 15, 2020, 2808 civilized volunteers have been launched, and 463 environmental protection activities have been launched on the platform. In 2016, with the comprehensive platform score of 600 points Grand Slam, l won three awards of Shenzhen "Excellent City Environmental Civilization Ambassador"," Best Popular Famous Sized Ambassador", and "Outstanding Contribution Civilization Ambassador". In 2017, 2018, and 2019, I won the award of "The Most Influential Civilized Ambassador of Shenzhen" in three consecutive years. In the beautiful Shenzhen public welfare platform, my points have exceeded 620,000, ranking No.1 in this city.
主持人:盐田区生态文明碳币系统是全国首创,您作为碳币系统评选出的荣誉市民有什么参与感受吗?
徐贤:盐田区生态文明碳币服务平台是一个绿色、公益、服务型的平台,可以通过平台学习环保知识、践行低碳环保生活,并以此获取碳币作为奖励,您还可以使用碳币兑换礼品,参与每日步行、公交出行、绿动骑行、垃圾分类、知识大闯关等活动都可以获取碳币奖励,2016年碳币平台上线我就第一时间加入,每天积极参与平台线上互动和线下的环保活动,我作为盐田区生态文明碳币系统评选出的荣誉市民,截至2020年8月15日,个人累计获得碳币超过100万,个人积分已超过55万(碳币平台积分排名盐田区第一),已捐赠超过32万碳币用于种植珊瑚、建设碳币环保角和生态文明公益宣传屏众筹(支持环保、关爱海洋),我计划自己所有的碳币以后全部用于捐赠,支持社会公益环保。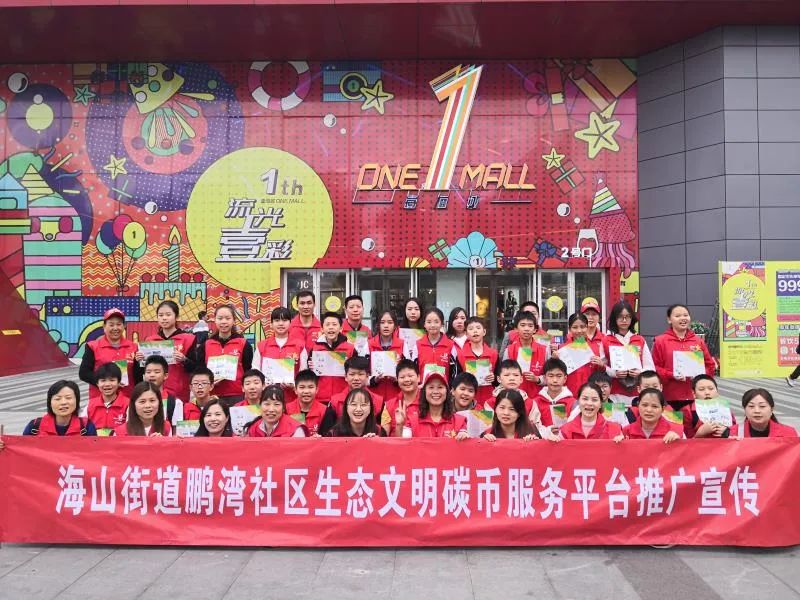 Host: The carbon coins system of ecological civilization in the Yantian District is the first in China. As an honored citizen selected by the carbon coins system, do you have any sense of participation?
Xu Xian: The carbon coins system of ecological civilization in the Yantian District is a green, public, and service platform. People can learn environmental protection knowledge through the platform, and practice low-carbon environmental protection life to obtain carbon coins as a reward. You can participate in the activities of daily walking, public transportation, green riding, garbage classification, knowledge breakthrough activities to get the carbon coins as a reward, and use carbon coins to exchange gifts. I joined the platform when the carbon coins platform was launched in 2016, and actively participated in online interaction and offline environmental protection activities on the platform every day. As an honorary citizen selected by the carbon coins system of ecological civilization in the Yantian District. Until August 15 of 2020, I have accumulated more than 1 million carbon coins with total points have exceeded 550,000 (ranked No.1 in Yantian District on Carbon Coin Platform). Up to now, I have donated more than 320,000 carbon coins in planting corals, building Carbon Coins Environmental Protection Corner, and promoting Ecological Civilization Charity Fundraising Event (includes support for environmental protection and care for ocean). In the long run, I plan to harness all my carbon coins for donations in the future to support public welfare and environmental protection.
主持人:您连续3年为深圳环卫工人筹集暖心餐项目代言,在腾讯公益平台发起"一起捐"活动,3次筹款共发动4330人次为环卫工筹集善款56663.08元,且连续4年组织百名义工参与"关爱环卫工爱心替岗"活动,让更多人体会环卫工人辛苦,在体验中珍惜环卫工劳动成果。您认为在做这类活动中,难点是什么?您又是怎样克服的呢?
徐贤:接连三年为环卫工发起"一起捐"筹集爱心善款,第一年筹款就持续了120天,每天不但自己和家人要带头捐款,还要花很多时间和精力统计当天每一位捐赠者的名字和所捐总数,接连三年代言,接连三年参与,虽然发动的过程非常辛苦甚至艰难,我每天依然在朋友圈和公益群里坚持发动。这个世界的改变,不是一个人做得很多,而是很多人都做一点。希望通过暖心餐项目让更多人关爱环卫工人,尊重环卫工人。关于每年环卫工节开展的"爱心替岗"活动,大家凌晨4点多就要起床,5点所有人必须集合,要非常早才能真正体会到环卫工人每天的的辛苦,活动前一天晚上我们会在群里不断地提醒大家订好闹铃不要迟到,每一年参与"爱心替岗"活动的志愿者几乎一夜都睡不好觉,非常不容易,但是每年的爱心替岗活动大家依然积极踊跃报名参与,环卫工人特别辛苦,能够为辛勤的环卫工人出一份力,再苦再难我们也愿意。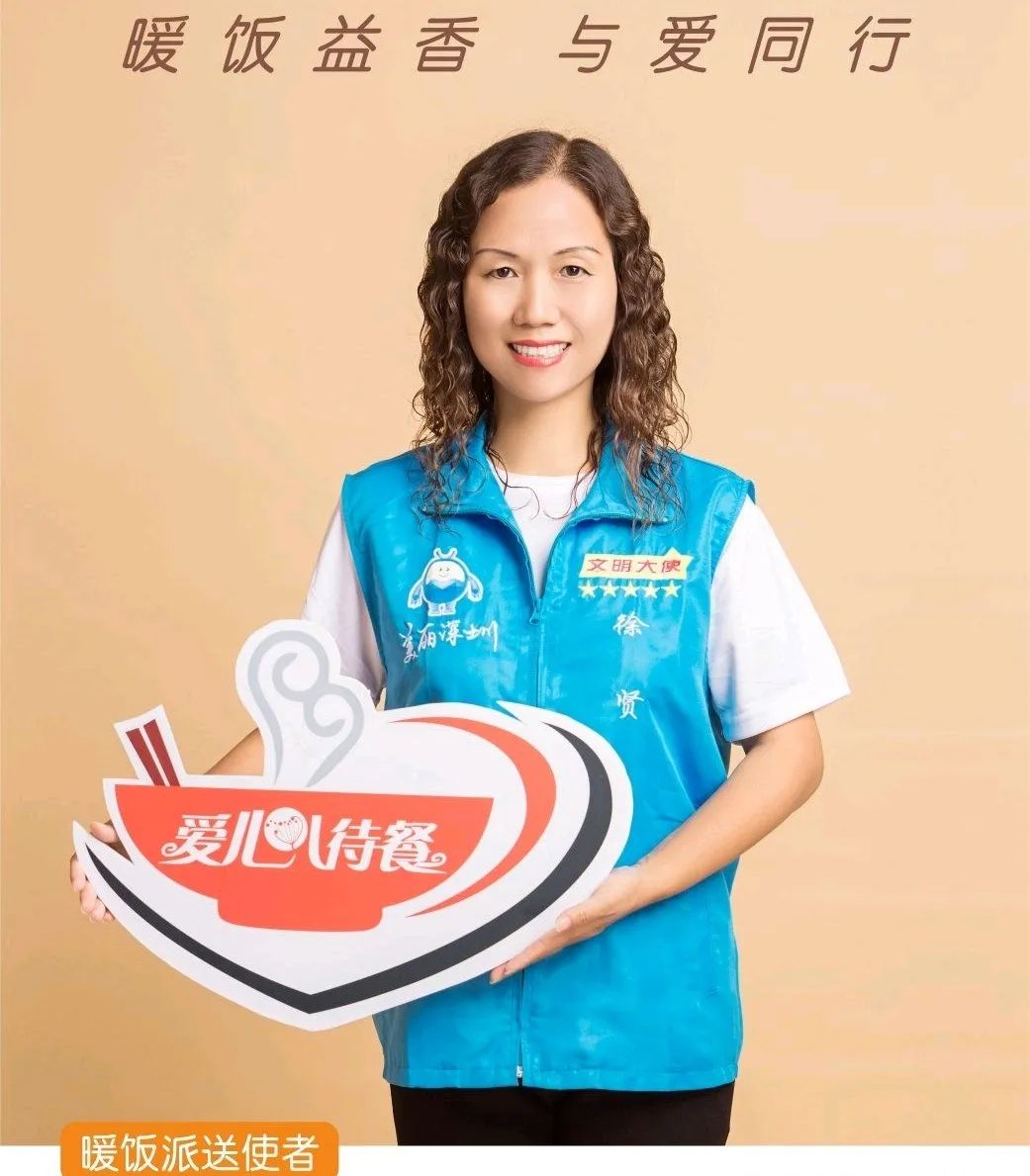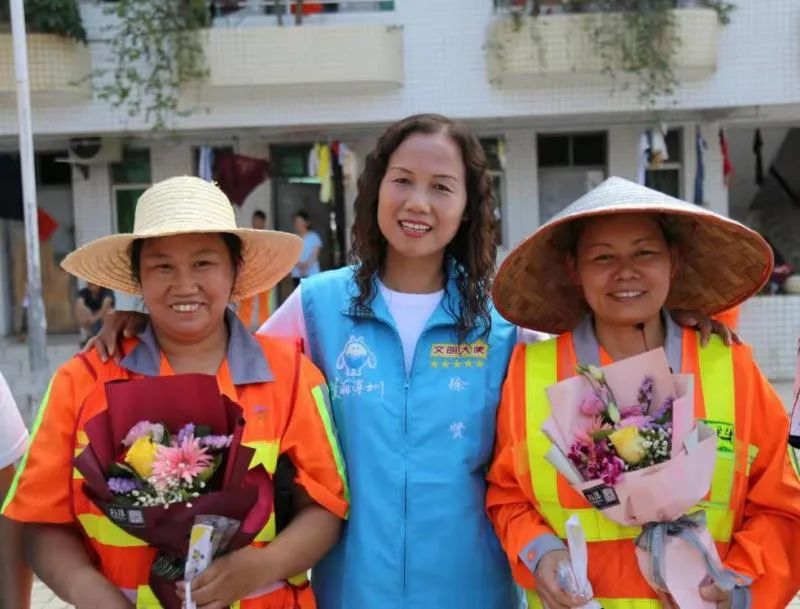 Host: As the spokesperson, you have advocated the heartwarming meal project for sanitation workers of Shenzhen for three consecutive years so far, and launched the "Together We Donate" activity on Tencent's charity platform. The three fundraising campaigns have successfully mobilized 4330 people to raise RMB56,663.08 for sanitation workers. And for four consecutive years, you have engaged more than a hundred volunteers to participate in the "Caring for Sanitation Workers and Switching Jobs with Love" activity. In that case, more people get to experience the hard work of sanitation workers and cherish their work outcomes more. Can you tell us more about the difficulty in organizing this particular type of activity? And how did you get through all the setbacks?
Xu Xian: For three consecutive years, I initiated the fundraising campaign of "Together We Donate" to raise awareness of love for sanitation workers. The first year of the campaign has lasted for 120 days. I remembered that not only my family and I need to pioneer in donation, but also we have spent plenty of time and effort to record each donors' name and their donation sums correspondingly. The opening of this campaign launching was rather tough for the first three years, but I keep promoting the campaign via WeChat moment and charity groups. The change of this world is not because of the work done by a small group of people, but with the large group's power. We sincerely hope that our society will care and respect the sanitation workers more through the heartwarming meal project. Regarding the activity of "Switching Jobs with Love", which is carried out on the Sanitation Work Festival every year, everyone has to get up at 4 a.m., and assemble by 5 a.m. Participants could genuinely experience the daily hard work of sanitation workers by engaging in this activity at such an early morning. Besides, every night before the event, we will keep reminding everyone to set the alarm properly and not to be late. Annual activity of "Showing Compassion by Helping Doing Sanitation Workers' Job" is exhausting, making volunteers sleep all night badly. But every year lots of people are still eager to participate in this activity, hoping to make some contribution to help hard-working sanitation workers, no matter what it takes.
主持人:去年,垃圾分类的时尚席卷全国,您也有在开展垃圾分类的相关工作,您会发动骨干志愿者每周轮流在各街道社区的垃圾分类点组织开展资源回收垃圾分类宣传,并且开展青少年垃圾分类"小督导员"培训和垃圾分类督导行动,您认为这样做的好处是什么?
徐贤:早在2016年我就开始组织发动盐田区骨干志愿者每周六在各街道社区轮流组织开展资源回收垃圾分类宣传活动,持续四年从未间断,今年4月21号,深圳市垃圾分类志愿督导预约平台再次启动,我每天晚上也会发动盐田区志愿者、家长学生就近参与垃圾分类志愿督导志愿服务,引导居民进行家庭垃圾正确分类,定期开展青少年垃圾分类"小督导员"培训,截至2020年8月15日,盐田区垃圾分类志愿督导已持续参与117天,从开始的每天只有几名义工参与,到现在的平均每周有600人次预约参与,辖区居民环保意识不断增强,垃圾分类任重道远,只要我们用更多的责任心、耐心,多劝导、多提醒,持之以恒,垃圾分类必然会得到更多居民的认同与支持,我们的生活环境也将越变越美好!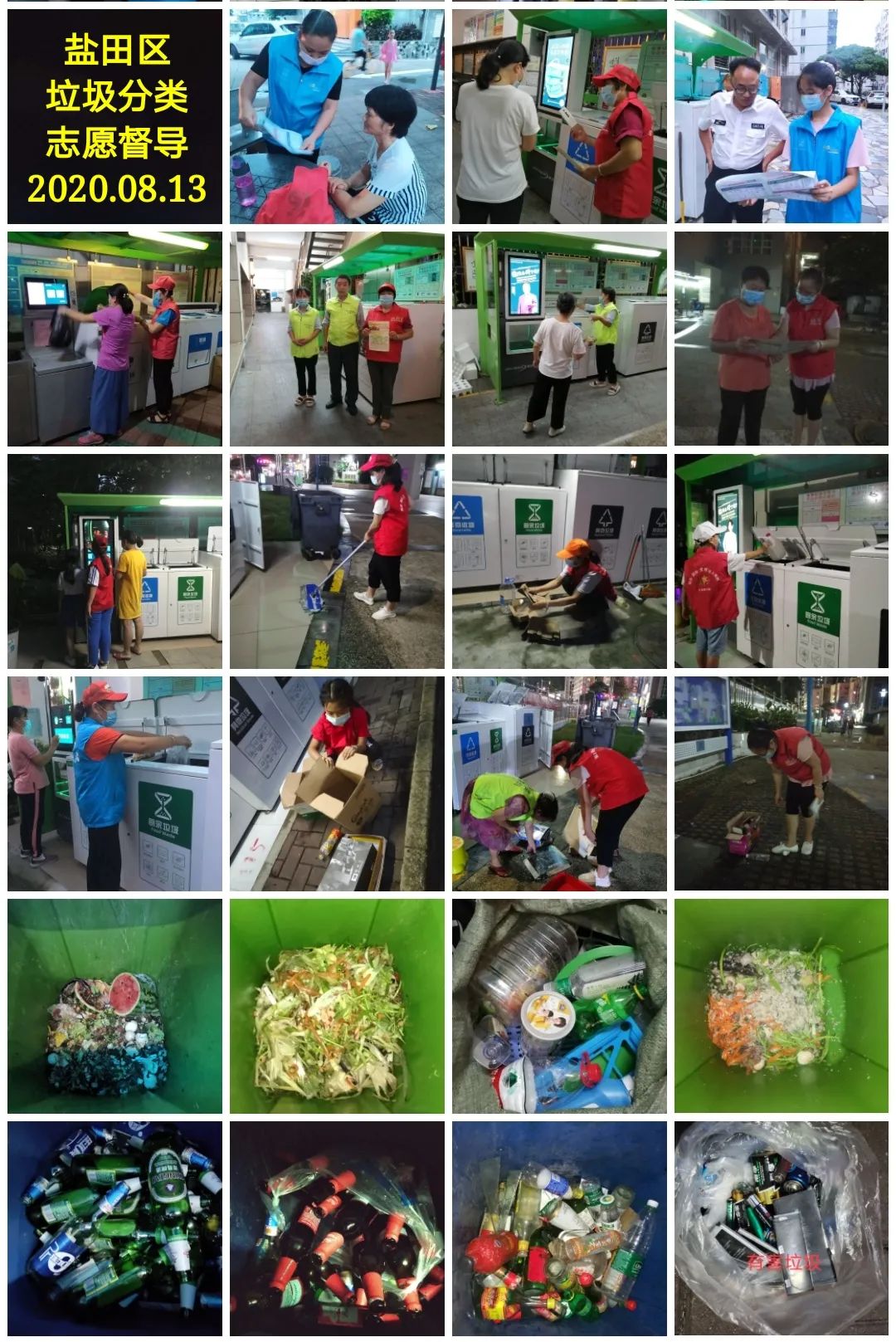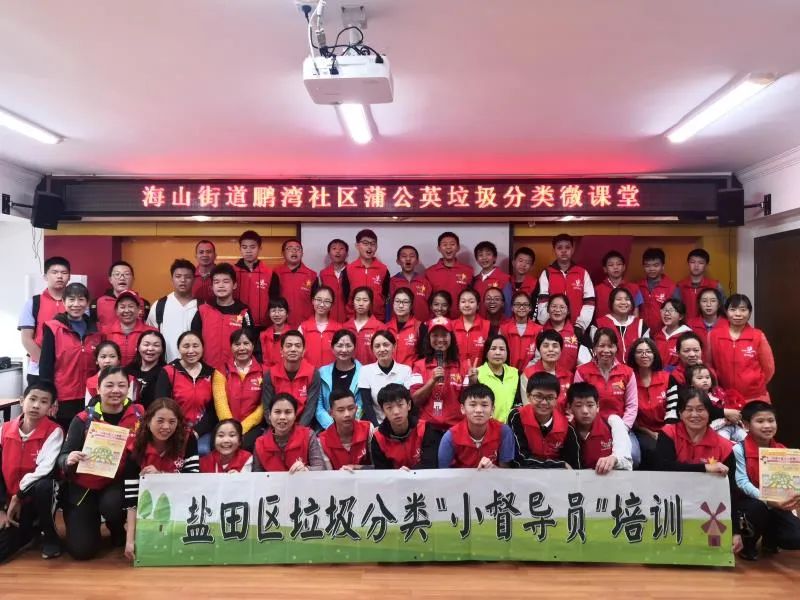 Host: Last year, garbage sorting became popular across the country. You have also taken part in some relevant work. For example, you organize leading volunteers to publicize recycling and garbage sorting at community garbage sorting sites every week. Besides, you offer garbage sorting supervision training to teenagers as well as the garbage sorting. What do you think all these have brought to us?
Xu Xian: Since 2016, I have unremittingly organized leading volunteers in Yantian district to publicize recycling and garbage sorting at communities in turn on every Saturday. On April 21 this year, online appointment platform for garbage sorting volunteering supervision of Shenzhen city was reopened. I encourage volunteers, parents, and children to join the nearby volunteering services for garbage sorting guidance every evening, guide residents to do correct household garbage sorting, and provide teenagers regular training of waste sorting guidance. Garbage sorting volunteering supervision in the Yantian district has been performed for 117 days by August 15 of 2020. In the beginning, only a few volunteers took part in this activity. But now, averagely 600 people make appointments to join in it every week, showing a promotion of residents' environmental awareness. Garbage sorting is an effort-taking work, but as long as we persuade and remind people to do garbage sorting responsibly, patiently, and persevere, we will see more and more people recognize and support garbage sorting. By then we will embrace a better living environment.
主持人:您在2019年获得深圳市光盘行动最具号召力奖,独创"光盘拼图法"来让广大市民积极参与光盘行动,和我们分享一下这个"光盘拼图法",好吗?
徐贤:2018年11月8日,深圳市"11.8光盘日"正式启动,我作为盐田区"光盘行动"推广大使,独创光盘拼图,以快乐分享的形式吸引广大市民积极参与,并耐心指导大家学习制作餐前餐后光盘拼图,平均每天会审核并收集30多个家庭的光盘拼图制成美篇进行广泛宣传,截至2020年8月15日,已坚持648天,所制作的"文明餐桌光盘行动"宣传美篇达648篇,带动了上万家庭参与,其中年龄最大的78岁,年龄最小的2岁,共推出"光盘达人"54名,她们在实际生活中为身边人树立了榜样,每天用实际行动影响并感染着身边越来越多的人加入光盘行动,分享光盘的同时大家的拼图技巧也在不断地提升,每天晚上制作拼图成为了大家的一个乐趣,口号已经成为行动,光盘早已成为习惯,2019年我荣获了深圳市"光盘行动"最具号召力奖,我们盐田区"光盘行动小分队"也获得了深圳市"最佳团队"的荣誉。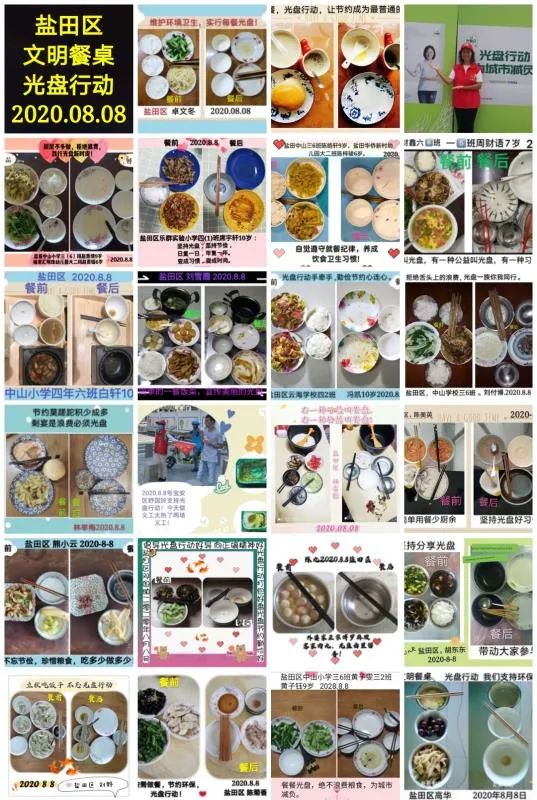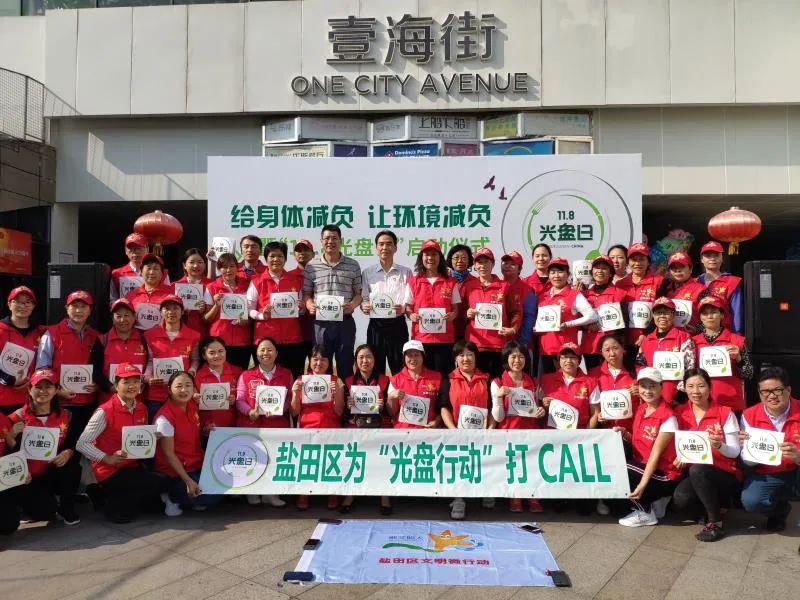 Host: You won the most appealing award of Shenzhen Empty Plates Movement in 2019, and created the original "Empty Plates Puzzling Method" to let the general public actively participate in the Empty Plates Movement. Would you like to share this "Empty Plates Puzzling Method" with us please? (Introduce the Empty Plates Puzzling Method, its benefits and effects)
Xu Xian: On November 8, 2018, in Shenzhen, launch of 11.8 Empty Plates Movement, I as the ambassador for Empty Plates Movement Yantian district, original Empty Plates Puzzling, in the form of sharing happiness to attract the general public to actively participate in, and patiently guide everybody to make Empty Plates Puzzling before and after dinner. On average we will review and collect a day more than 30 families of Empty Plates Puzzling and put these into extensive publicity. By August 15, 2020, it has been 648 days for me to participate in this with 648 publication articles of "Civilized Table Empty Plates Movement", which led to thousands of households to participate. The most prominent age of participants is 78 years old; the youngest participants' is 2 years old, with 54 "Empty Plates Experts".
They set real life examples to the people around, with practical action to influence and infect the side every day more and more people to join the Empty Plates Movement, sharing Empty Plates, which also practice puzzle skills. Making a puzzle every night became a habit for participants, and slogans have become action. I won the 2019 in Shenzhen most appeal "Empty Plates Movement" award, while our "Empty Plates Movement" Team also won the Yantian district of Shenzhen the honor of "best team".
主持人:自您担任盐田区志愿者民间河长以来,已经发现大小问题200多件,那您在巡河护河的过程中,主要是关注哪些方面呢?
徐贤:作为盐田区志愿者河长,首先组建成立街道"河小二"志愿队伍,定期到海滨栈道开展巡河护河清洁环保行动,主要是看河面有没有漂浮的垃圾、有没有异味、河道是否通畅、有没有排污的现象、河岸栈道是否清洁干净等等,并向市民宣传海洋环保知识,带动更多志愿者和市民每天自觉参与到巡河护河中来,共发现大小问题200多件,每次都及时向职能部门反馈并跟进处置,尽自己微薄之力为入海污染防治贡献力量。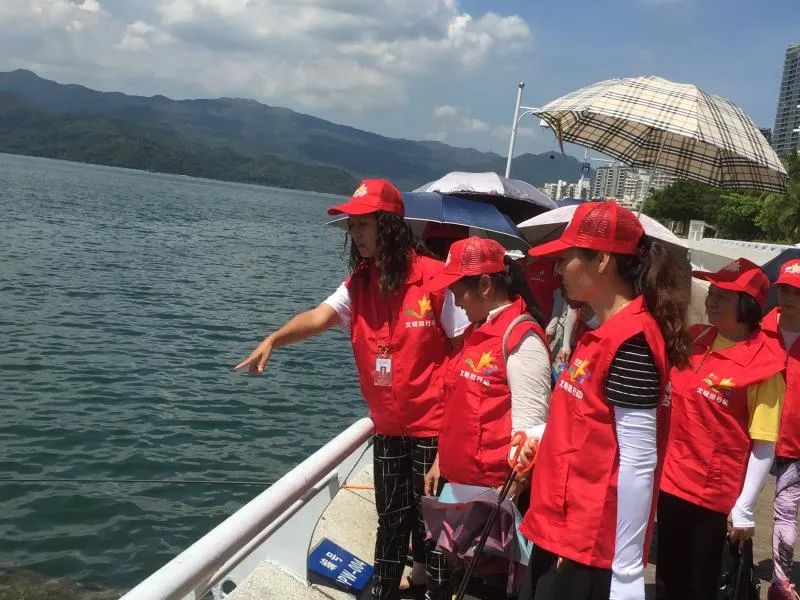 Host: Since you have served as the volunteer river chief in Yantian District, you have found more than 200 problems of different sizes. What aspects do you mainly pay attention to in the process of river patrol and river protection?
Xu Xian: As YanTian district volunteer leader to protect river, I first established a street volunteer team called" Small River Two," which will carry out the river cleaning environmental protection action tour regularly on the coastal road, basically to check if there is floating garbage, peculiar smell, the river channel is obstructed, or the cleanness of the plank road and so on. Also, we will advertise marine environmental protection knowledge among the people, bringing more volunteers and citizens to participate in the river tour daily. In total, we find out more than 200 problems with timely feedback to the functional departments and follow up with dispose, using our meager strength to contribute to marine pollution prevention.