青年说 ‖ 郭智孚:打酱油,最好的环保理念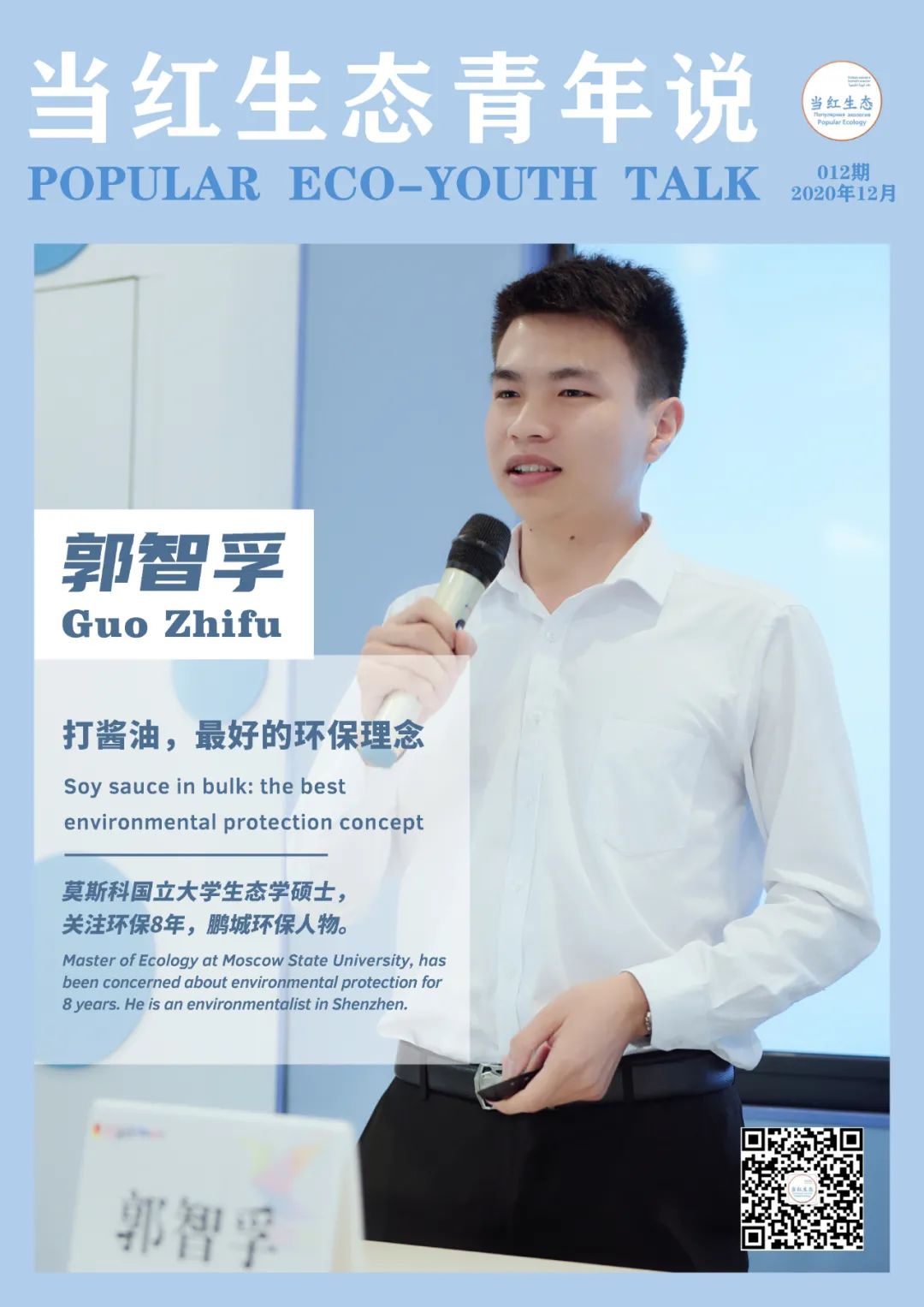 嘉宾简介

Guest Profile
郭智孚,莫斯科国立大学生态学硕士,关注环保8年,
系鹏城环保人物、广东省最美生态环保志愿者。
Guo Zhifu, Master of Ecology at Moscow State University, has been concerned about environmental protection for 8 years. He is an environmentalist in Shenzhen and one of the most beautiful ecological environmental protection volunteers in Guangdong Province.
小时候,给家里人打酱油是我的专属活,几张分角纸币就能打来满满一绿色玻璃瓶酱油。随着时代的发展,"打酱油"的日子已经离我们越来越远,酱油也成了一种被包装化的消费品。但仔细想想,打酱油这种方式似乎蕴含着非常好的环保理念。

When I was a kid, it was my exclusive job to buy soy sauce in bulk for my family. I could get a full glass bottle of soy sauce with a few penny bills. As time goes by, the days of "soy sauce in bulk" have become farther away from us, and soy sauce has become a packaged consumer product. But when you think about it deeper, buying soy sauce in bulk seems to contain a potential environmental protection idea.
郭智孚:在那个年代,其实也有瓶装的酱油,我们打酱油并不因为是散装酱油比瓶装的质量要好,也不是因为完全买不起瓶装酱油,归根结底是因为节约。节约是中华民族的传统美德之一,而对于环保来说,节约也是非常之重要的。比如,我们节约一度电,就相当于节约了0.4千克标准煤,4升净水,和减少排放了1千克二氧化碳和其它硫氧化物;如果每人每天节约一滴水,全中国一天就可以节约大概6.5万吨水......还有节约纸张、节约粮食、节约能源都与环保息息相关。所以,环保应该从节约开始。
Guo Zhifu: In the old days, there was actually packaged soy sauce as well. We buy soy sauce in bulk not because they are of better quality than bottled, nor for the expense pressure. It is all about saving and conservation. Saving is one of the traditional virtues of the Chinese people, and it is also important for environmental protection. For example, if we save one kilowatt-hour of electricity, it is equivalent to saving 0.4 kilograms of standard coal, 4 liters of pure water, and reducing the emissions of 1 kilogram of carbon dioxide and other sulfur oxides; if each person saves a drop of water every day, the whole of China can save approximately 65,000 tons of water a day... Saving paper, food, as well as energy, are all closely related to environmental protection. Therefore, environmental protection should start from saving.
郭智孚:不出意外的话,打酱油的瓶子可以使用无数次,可以就那样一直持续循环的使用着。说到这,我想提一下20世纪最伟大的发明之一——塑料袋,众所周知,瑞典包装设计师斯滕·古斯塔夫·图林觉得棉麻、树木制成的袋子不够轻便捷、环保,而发明了塑料袋。然而,人们不注重对塑料的可持续循环使用而造成了严重的白色污染。所以,环保应该把重点放在可持续循环发展上。
Guo Zhifu:The bottles for soy sauce can be used countless times and can continue to be recycled. Speaking of this, I would like to mention one of the greatest inventions of the 20th century- the plastic bag. Sten Gustaf Thulin, the well-known Swedish packaging designer, felt that the bags made of cotton, linen, and trees were not light, convenient and environmental-friendly enough. Hereby he invented the plastic bag. However, people do not pay attention to the sustainable recycling of plastics and cause serious white pollution. Therefore, environmental protection should focus on sustainable and circular development.
环境友好
Environmental-friendly
郭智孚:打酱油也是一种环境友好型生活方式,基本上不会产生任何垃圾,虽然,塞酱油瓶的自制木塞子用久了也会坏掉,但可以将其扔到树下,还可以化作春泥更护花。在很久以前,本没有"垃圾",一切物质都可以经过生产者、消费者、分解者而循环,一切生态系统也都可以自我净化和恢复。只是由于人类过度开发和随意丢弃一些本不属于大自然的"合成垃圾",而导致生态系统被破坏,生物链被断节,这时的大自然无法进行自我净化和恢复,且愈演愈烈,最终威胁到人类本身。所以,环保,应以促进环境友好型社会为目标。
Guo Zhifu:Buying soy sauce in bulk is an environmental-friendly way of life, contributing to zero waste. Although the cork breaks down over time, you can throw it under trees to make the soil fertile. Long ago, there was no waste. All materials can circulate through producers, consumers, and decomposers; all ecosystems can purify and restore themselves. As a result of human over-exploitation and random disposal of some "synthetic waste" that does not belong to nature, the ecosystem is destroyed, and the biological chain is broken, making it impossible for nature to purify and restore itself. Environmental protection, therefore, should be aimed at promoting an environmental-friendly society.
郭智孚:打酱油,是老祖宗留下来的非物质文化遗产,无论时代如何变迁,其中包含的节省俭约、可持续循环发展、环境友好型社会的环保理念永远值得我们继承与发扬。
Guo Zhifu:Bulk soy sauce is the intangible cultural heritage left by our ancestors. No matter how the times change, the environmental protection concepts of frugality, sustainability, and environmental-friendly society will always be worth inheriting and carrying forward.