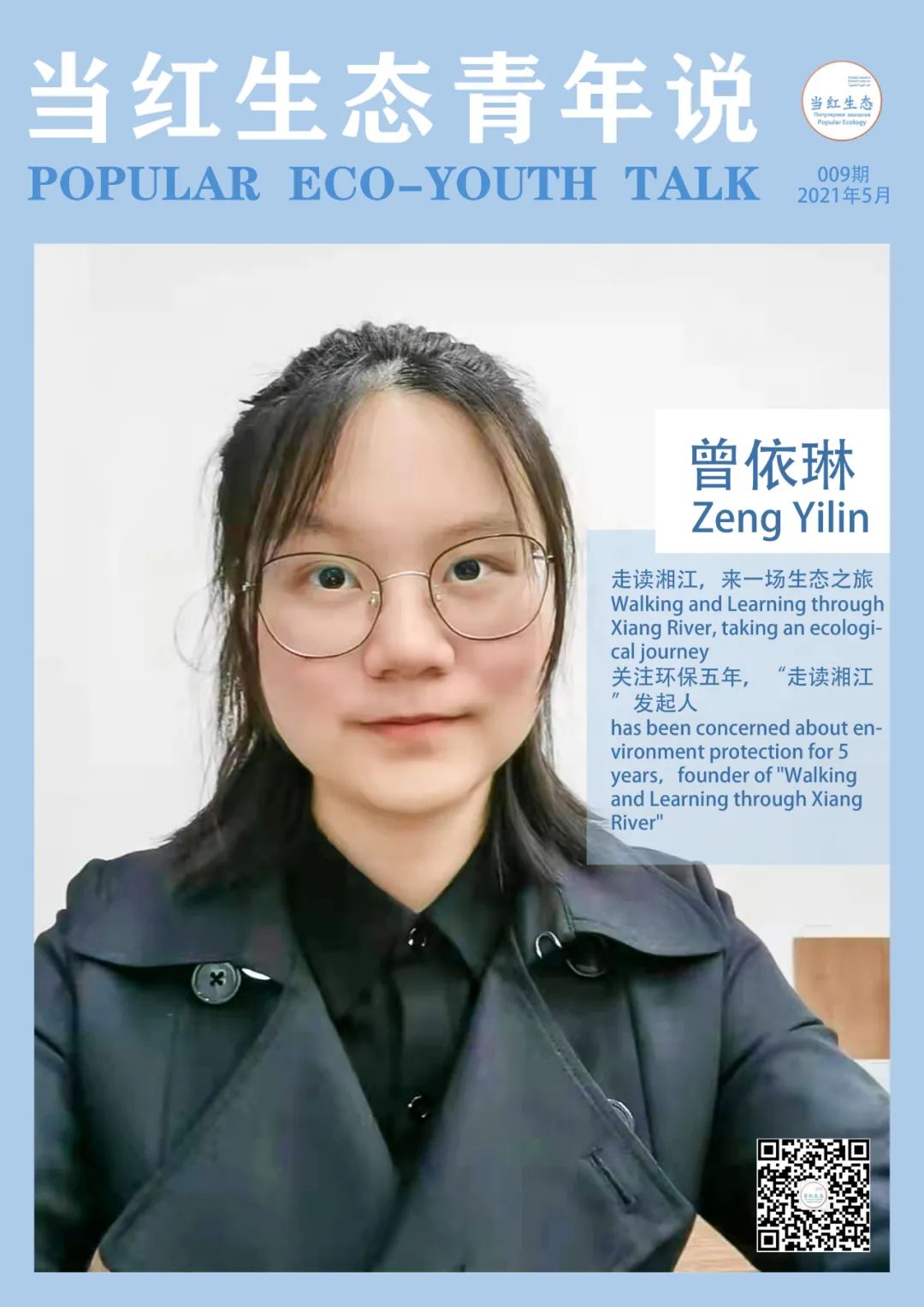 大家好,我叫曾依琳,一名普普通通的大一学生。硬是要说有什么不同的话,那就是接触环保比较早吧。但现在为止,已经是做环保的第五个年头啦!从校园到社区再到更大的平台,从保护湘江到聚焦碳中和,从走读湘江的创始人到低碳联盟的负责人,我特别庆幸我一直在环保的路上,不断发光发热。非常感谢"当红生态"给我这个平台,那今天我就来分享一下我的环保小故事吧!
Hello everyone, my name is Zeng Yilin, I'm an average freshman in a college. If I am any different, the answer I would give you is——I contacted environmental protection at a really young age. Up to now, I have involved in environmental protection for 5 years! Starting from campus to community and then to larger platform; from the founder of 'Walking and Learning through Xiang River' club to the 'low-carbon league', I'm really glad I'm always on the road, doing my best. Thanks a lot to 'Popular Ecology' for providing the platform, here I want to share my story about environmental protection with you.
要说我与环保的缘分是起于一场"大战"——湘江源头究竟在哪里?自从秦始皇修灵渠以来,"湘江源头在广西兴安"的说法已成定论。据国际河流正源确定的"河源唯长、水量唯大、与河流的主方向一致的支流的源头为正源"的三个标准,2011年6月,省水利普查办将湘江源头在蓝山的普查结果报南京水利科学院,2012年1月,南京水利科学院复核认定:湘江源头在湖南蓝山县,具体发源地点在蓝山国家森林公园境内。
My fate with environmental protection derived from an argument——'where exactly the source of Xiang River is'. Ever since the First Emperor of Qin built the Linqu Canal, it has been widely recognized that the source of Xiang River is in Xingan, Guangxi Province. In June, 2011, according to the international standard of the man source of rivers——the source of tributary which has the same flow direction as the main stream, the longest source and the largest amount of water. Water Resource Survey Office of Hunan submitted their census result to Nanjing Hydraulic Research Institute, showing that the source of Xiang River located in Lanshan County, Hunan Province. Then, in January, 2012, the NHRI rechecked and affirmed the result, finding that the specific origin located in Lanshan national park.
这么大的一个瓜,怎么能不去看看呢?于是在2015年,我们组织了一场探源活动,去看看我们湖湘儿女的母亲河最初的模样。在湘江源头,我们进行了垃圾捡拾和问卷调查,发现大家的环保意识有待提高,日常行为亟需规范,存在对湘江源头不重视的态度。于是,我和几个小伙伴们决定通过自己的力量来改变现状,"走读湘江"雏形出现。
How could I miss such big news? Thus, in 2015, we organized an activity to explore the source of Xiang River, aiming to see the original appearance of us Hunan people's mother river. In the source of Xiang River, we picked up rubbish and carried out a questionnaire survey, finding that people's environmental awareness should be raised, their daily performance needs to be standardized and some treated the source indifferently. Therefore, some of my friends and I decided to change the current situation on our own. So, the shape of our club——'Walking and Learning through Xiang River' was set up formally.
2017年,"走读湘江"环保公益社正式成立:9名中学生,9天时间,2000公里。2017年,第一届走读湘江的成员以湘江源为起点,一路向北,走过了湘江流域的6座城市,到访了湖南3大工业区,参观了10个湖湘历史文化圣地,捐赠了2万元的图书,选取了湘江流域6个取水点进行了水样检测,共发放调查问卷3552份,完成了近3万字的专题调查报告和走读日记。
In 2017, the 'Walking and Learning through Xiang River' Environmental Charity Society was officially established:We had 9 high school students, spent 9 days and walked through 2000 kilometers. This year, the original members of our club started from the source of Xiang River, went towards the north, walked through 6 cities in the Xiang River basin, interviewed 3 industrial parks in Hunan, visited 10 historical places, donated 20,000 yuan books, evaluated water samples in 6 intake points in the Xiang River basin, handed out 3552 questionnaire and finally came out a thirty-thousand-word survey report and walking diary.
在走读湘江的成长路上,湖南日报等媒体对我们进行了跟踪报道,袁隆平爷爷还亲自接见了我们。2018年,我们获得了母亲河奖,被写进了湖南省中学生地理教材。并且连续三年被邀请参加亚太低碳技术峰会宣传介绍社团的环保项目,获得了"特别贡献奖"。
Along the road to growth of our project,some media such as Hunan Daily followed up our story. What's more, Yuan Longping academican met us in person. In 2018, we have the honor to win 'the Mother River Prize' and were written into the geography textbook of middle schools in Hunan Province. Besides, we were invited to attend Asia-Pacific Forum On Low Carbon Technology to propagandize and introduce our environment project 3 years in a row and won 'the Special Achievement Award'.
多年以来,我们在各个中小学进行了数十次的宣讲和募捐,进行环保知识传播和物资捐献。同时,我们还举办艺术性活动,如进行江豚手工艺品制作等,用趣味的方式呼吁更多人关注我们的环保事业。
Over the years, we had propagandized and organized donation in various schools to diffuse environmental knowledge and donate supplies. In the meantime, we also organized activities such as making cow-fish handcrafts which is aiming to calling on more people to paying attention to environmental protection project.
有幸看到,在我们的共同努力下,湘江治理得越来越好,而全球变暖、物种灭绝、各种极端气候事件频发,第二届的8名成员共同将目光聚焦在积极"应对气候变化"领域,于2020年12月成立了"走读湘江 低碳联盟"。于是,新一批热爱环保的中学生来了,我庆幸我还没走,成为了他们的负责人。未来,我会和他们一起为碳中和做贡献!
It is pleased to see that the Xiang River has been governed better and better under our joint efforts. However, based on global warming, species extinction and frequent extreme climate, our 8 members of our second term focused on 'tackling climate change' and set up 'low-carbon league of Walking and Learning through Xiang River'. Whereupon, a new wave of environmental lover came on stage. I'm really rejoice that I haven't left and can served as their principal. In the future, I will dedicate to carbon neutral project together with them!